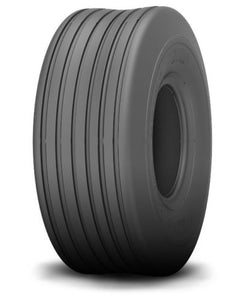 (1) ONE- New 11x4.00-5 4PR SMOOTH RIB LAWN MOWER TRACTOR GO KART HEAVY DUTY TIRE
$28.90

$28.90
FREE SHIPPING ON ALL ORDERS
---
---
QUANTITY 1=1 Tire
        Size:
11: Overall height or diameter of the tire in inches.
4.00: Width of the tire in inches.
-5: Rim diameter in inches.

Tread Pattern: Rib Tread

A rib tread pattern is characterized by continuous circumferential ribs running around the tire.
The ribs create a smooth and flat contact surface with the ground, providing stability and reducing turf damage.
Rib tires are commonly used on the front wheels of lawn mowers and similar equipment for steering control and even weight distribution.

Application:

Suitable for use on lawns and other surfaces where minimizing damage is important.
Provides good traction and stability for steering in various outdoor conditions.

Intended Use:

Designed for small utility and recreational vehicles, such as lawn mowers and garden tractors.
---
WE ALSO RECOMMEND