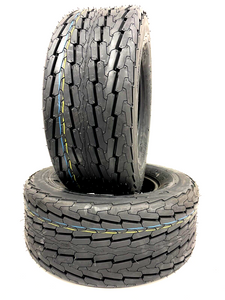 2-20.5X8-10 Ultra Heavy Duty 20.5X8.00-10 Load F 12PR 205/65D10 Trailer Tires
$159.95

$159.95
FREE SHIPPING ON ALL ORDERS
---
---
FEATURES AND BENEFITS
Trailer tire model
Enhanced controllability
Upgraded load durability
All season traction
OVERVIEW
The tire features a reinforced bias ply structure. The stronger construction keeps the ideal tire shape under the load and driving pressure. The bias structure does not deform under the load and driving pressure. As the tire does not deform, it is able to greatly improve the model's load carrying and withstanding ability. Bias ply tires are perfect for trailers that carry heavy loads with ease, while also providing excellent puncture resistance.
The flat footprint with the ribbed pattern ensures the tire's constant surface contact, which improves the controllability. This tread design guarantees the tire's exceptional steering responsiveness and driving stability. In other words, the tire guarantees a faster and more precise steering response to the towing vehicle's instructions and it secures structural stability. The tire guarantees safer handling, by greatly improving the towing vehicle's control over the trailer throughout its performance.
The Trailer P815 also offers excellent all weather traction. The all season compound and the ideal tread design work together to improve the dry, wet and winter grip. The stronger compound optimizes the rubber flexibility, while the tread elements enhance the grip on the road surface. The zigzag circumferential grooves prevent hydroplaning by dispersing water and slush from the footprint in wet conditions. This combination significantly improves the year round driving safety levels.
Tread
P815 H.S. TRAILER B/W TL
Outside Diameter ( in )
20.5
---
WE ALSO RECOMMEND