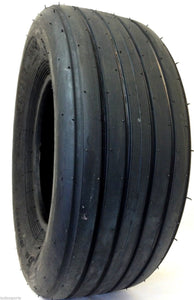 (1) ONE- NEW 9.5L-15 RIB 12PLY Implement Heavy Duty TUBELESS TIRE
$119.99

$119.99
FREE SHIPPING ON ALL ORDERS
---
---
(1) ONE- NEW 9.5L-15 RIB 12PLY Implement Heavy Duty TUBELESS TIRE
Size Notation:

9.5L-15

9.5L: Nominal width and height of the tire in inches.
15: Rim diameter in inches.

Specifications:

RIB: Indicates a ribbed tread pattern. Ribbed patterns typically feature continuous circumferential ribs for stability and even wear.
12PLY: Indicates the ply rating, specifically 12 plies. Ply rating is a measure of the tire's strength and load-carrying capacity. A 12-ply tire is heavy-duty and designed for significant loads.

Type:

Tubeless: Indicates that the tire is designed to be used without an inner tube.

Intended Use:

Implement Heavy Duty: This tire is likely intended for use on various agricultural implements and equipment, where heavy loads and durability are crucial.

Application:

Rib Tread Design: The ribbed tread design is suitable for applications requiring stability and even weight distribution, common in the agricultural sector.
Tubeless Design: Simplifies installation and maintenance compared to tires that require inner tubes.
---
WE ALSO RECOMMEND