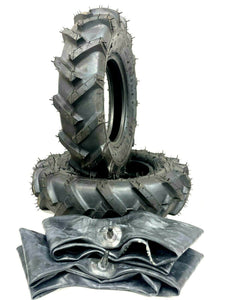 Two 6-12 6x12 R 1 Bar Lug WTubes Tractor Climb Tires Heavy Duty Grip Mud
$179.88

$179.88
FREE SHIPPING ON ALL ORDERS
---
---
Two 6-12 6x12 R1 Bar Lug Tubeless Tractor Climb Tires Heavy Duty Grip Mud with tubes

Versatile 6-12 lug tire designed for use in various agricultural and industrial applications.
Efficient traction provided by the lug treads, ensuring reliable performance in challenging terrains such as mud, snow, and loose soil.
Specifically designed for small agricultural machinery, such as compact tractors and utility vehicles, to optimize productivity in demanding environments.
Durable construction materials ensure longevity and resistance to wear and tear, providing a cost-effective solution for your equipment needs.
Easy installation process allows for quick and hassle-free replacement, saving both time and effort during maintenance.
Complies with industry standards for safety and performance, providing a dependable solution for your machinery requirements.
---
WE ALSO RECOMMEND