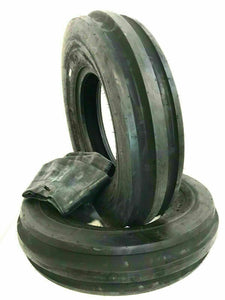 TWO 7.5LX15, 7.5l-15 F-2 Triple Rib Front Farm Tractor 6 PR W/Tubes 7.5L-15 Tire
$269.95

$269.95

Save $50
FREE SHIPPING ON ALL ORDERS
---
---
2 Tires and 2 Tubes
Heavy duty 6 Ply Rated
The heavy duty tire improves the versatile terrain traction. The ribbed footprint allows the tire to improve the soft and loose terrain grip while the tires are in motion. These tread elements allow the tire to greatly improve the deep mud and loose dirt performance, optimizing the field all terrain traction. The soft traction also helps to lower the pressure placed on the driving surface, avoiding soil retention.
This model features a bias ply construction. The reinforced internal structure allows the tire to keep the ideal tire shape under the load and driving pressure. Bias ply tires are perfect for heavy-duty applications, as their ply placement optimizes their load handling ability. They do not allow the tire to deform under the load pressure, which greatly improves the overall load capacity.
The three-rib footprint ensures the tire's surface contact while the tires are in motion. As a result, the tire enhances the steering responsiveness and the driving stability. In other words, the tire promotes a quick and precise steering response to the driver's commands, while the structure is secured against the driving pressure affecting the tire during the performance. This allows better control over of the tractor, offering a safer operating experience.
---
WE ALSO RECOMMEND