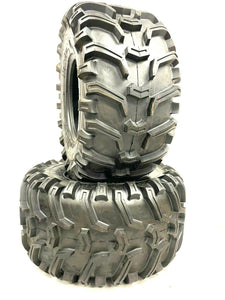 Two Vee 23x11x10 Grizzly 23x11.00-10 23x11-10 Tires 6 Ply AT A/T ATV UTV
$189.99

$189.99
FREE SHIPPING ON ALL ORDERS
---
---
Two Tires with free shipping for the listed price. 
The Vee Rubber VRM 189 Grizzly is an all terrain, all season tire manufactured for ATVs and UTVs.
The model's construction features a bias and 6 ply internal structure that enhances the damage resistance. The tire's stronger construction prevents punctures, tearing, chipping and cracking from harming the tire during the drive. The tread design's self-cleaning nature further improves the damage resistance by avoiding stone retention and ensuring a safer driving experience.
The tire promotes great all weather and all terrain traction. The tread design features large lugs, located both on the tread and the tire's upper sidewalls, and a high void ratio. This tread design manages to firmly grip the soft, loose and uneven terrain surfaces and perform well in all weather. The high void ratio also ensures a clean footprint by eliminating snow and mud and ejecting rocks stuck between the tread elements. This prevents stone retention, which can harm the tire's casing, and enhances the off-road performance.
The VRM 189 Grizzly offers a long lasting tire. The internal structure maintains the optimal tire shape against the driving and load pressure. The optimized tire shape and the special tire compound used in its manufacture increase the tire's usability. The long range compound is durable enough to withstand the harsh conditions of off-road driving, guaranteeing an extended tread life and performance.
---
WE ALSO RECOMMEND